---
Will Handsome plays live …
… on December, 14th, at the Immerhin – 9 pm
Rockabilly XMas: Santa Claus is coming to town.
---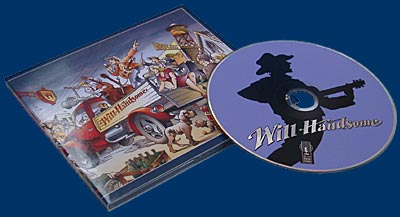 Will Handsome has been working on a follower for the highly-praised debut album (2002). Recording sessions started in May 2005, and the mixes were completed in March 2006. The CD-release concert has been performed on Wednesday, May 24th 2006, at the Immerhin, Würzburg.
The new album is entitled "Live fast, love hard, die young", and was recorded with the help of DENNIS SCHÜTZE (vocal/guitar), MARK HORN (steel-guitar), THOMAS NEES (trumpet), ANDREAS OBIEGLO (piano, harmophon), CHRISTOPH SCHWAB/TC DEBUS (upright bass), and JAN HEES (drums).
Highlights of the new repertoire include "Live fast, love hard, die young", "Divorce me C.O.D." and "Cry, cry, cry" plus Solo-performances of "Dark as a dungeon" and "Rambling Man" to name but a few.
"It's steady like a train, sharp like a razor."